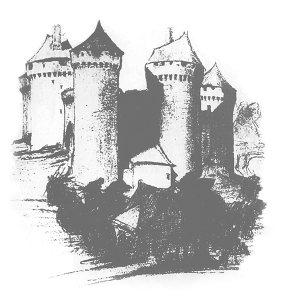 The castle (or château fort) of Lassay, built in the fifteenth century, is in a land of legends.
It was here at Lassay that St Fraimbault was buried, the saint who brought the Gospel to Maine in the sixth century, and whose life gave Chrétien de Troyes the idea for Launcelot of the Lake.
Unlike most medieval fortresses, which over the centuries have been abandoned or demolished or become
mansions, the castle of Lassay has survived with few major alterations.
As such, it is a rare example of fifteenth century military architecture which is still completely intact. Its history
is that of a strongpoint on the border of three provinces – Maine, Brittany and Normandy.
Because of its position, Lassay was besieged again and again during the English invasions of the fifteenth
century, the wars against Brittany, and during the sixteenth century wars of religion.
By the end of the seventeenth century it had ceased to have any military function, but as its owners were attached to it and lived there, it has endured until our own time.
Its striking outline against the horizon, eight towers, curtain wall and barbican, always stays in the memory of those who see it – Victor Hugo was so impressed that he drew a famous sketch.
On a conducted tour, you will see how a military garrison lived in the fifteenth century. The guide will also show you furnished rooms – a dining room, a bedroom, an armoury and a kitchen which has a curious old granite stove and a fine collection of ancient copper utensils.
A walk in the unusually atmospheric park completes the visit.